"This is Middle America," Mr. Grimm declared moments after taking the stage. Before the national anthem, he not so subtly invoked Mr. Trump to cheers: "I know no one here is going to be taking a knee."
With his law enforcement credentials, tart tongue and square jaw, Mr. Grimm, the rare elected Republican in New York City, was once seen as a future star. Troubles with the law cut short his career.
There was no doubt that Mr. Grimm made an impression in his two terms, after winning in the Tea Party wave of 2010. In 2014, he beat back a Democratic challenger while under federal indictment, only to give up his seat when he pleaded guilty to tax fraud for underreporting wages at a restaurant he owned and filing false tax documents.
"I know what he did was wrong. He did his time," said Cathy Reid, a Staten Island Republican who arrived to support Mr. Grimm's comeback in a three-wheeled motorcycle, wearing a black helmet with an "If I'd shot you when I wanted, I'd be out by now" sticker on it.
"Every business does that," she said. "He was made an example of."
While Mr. Grimm said he was "truly sorry" for his transgressions, saying he wished he was "perfect but I am not," he also made light of them. He said he first began working for his father at age 11. "Yeah, it was off the books," he joked.
Some in Staten Island said they welcomed Mr. Grimm's blunt manner, especially after seeing his outspoken advocacy after Hurricane Sandy.
"He got down and dirty," said Thea Friscia.
On the way to the rally, her friend Cathy Bannon stopped at a dollar store to pick up a "Welcome Home" balloon, like for those returning from hospital stays, in a show of support. "Michael was the only one who stood with us," she said.
Another woman, Maria Romagnuolo, added that Mr. Grimm had gotten her disabled son a "mobility scooter" after the storm. "He's one of us," she said.
Mr. Donovan, a former Staten Island district attorney, is expected to have the support of much of the Republican political apparatus both in New York and nationally. He has $300,000 cash on hand.
Mr. Grimm ended June with $420,000 in unpaid campaign legal bills. He entered into a "confidential settlement" with the law firm he owed, according to spokesman Michael Caputo. He also owed nearly $150,000 in tax restitution payments. Mr. Grimm borrowed money from family and "a friend" to pay off that debt, Mr. Caputo said, adding that the lenders would be disclosed on a future financial disclosure form.
At his rally, the signs had the required Federal Election Commission disclosures either added with stickers or taped onto them.
Jessica Proud, a spokeswoman for Mr. Donovan, dismissed Mr. Grimm's candidacy: "We're not really concerned about a challenge from a convicted felon who was rated one of the most liberal Republicans in Congress."
The bigger fear among national Republicans is that Mr. Grimm would lose the primary to Mr. Donovan and then seek to stay on the ballot as a third-party candidate, dividing the vote and opening a pathway for Democrats.
"He's keeping all of his options open," Mr. Caputo said.
A former campaign adviser to Mr. Trump, Mr. Caputo is helping Mr. Grimm make the case he would be a stronger ally to the president. "It's time to make anti-Trump Republicans pay a price at the polls," Mr. Caputo said.
Mr. Grimm once famously threatened to throw a reporter who asked about the federal investigation off a balcony during a television interview. "I'll break you in half," Mr. Grimm said then. "Like a boy."
He initially blamed the reporter for his question but later apologized.
When Mr. Grimm was sentenced to prison, the judge in his case told him, "Your moral compass, Mr. Grimm, needs some reorientation."
Mr. Grimm said on Sunday that he had matured. Still, he remained ever combative.
"I took my lumps like a man," Mr. Grimm said. "We took more than we should have."
Read the whole story
· · ·
New York Post
–
13 hours ago
Michael Grimm, Staten Island's ex-con ex-congressman, says that his stint in jail got Loretta Lynch her job as U. S. Attorney General.
New York Times
–
Oct 5, 2017
Michael Grimm after announcing on Sunday he was running for his old House seat. He is challenging Representative Dan Donovan of Staten …
Michael Grimm is dead certain of these things: He didn't deserve that prison time. He can recapture his old seat representing New York in …
President Donald Trump talked on Twitter, but Facebook was the crucial tool that helped elect him, says the man who directed the digital aspects of the Trump campaign. Brad Parscale tells Lesley Stahl how he fine-tuned political ads posted on Facebook to directly reach voters with the exact messages they cared most about – infrastructure key among them — and had handpicked Republican Facebook employees to guide him. Stahl's report will be broadcast on 60 Minutes Sunday, Oct. 8 at 7 p.m. ET/PT.
CBS News
"Twitter is how [Trump] talked to the people, Facebook was going to be how he won," Parscale tells Stahl.  Parscale says he used the majority of his digital ad budget on Facebook ads and explained how efficient they could be, particularly in reaching the rural vote.  "So now Facebook lets you get to…15 people in the Florida Panhandle that I would never buy a TV commercial for," says Parscale.  And people anywhere could be targeted with the messages they cared about. "Infrastructure…so I started making ads that showed the bridge crumbling…that's micro targeting…I can find the 1,500 people in one town that care about infrastructure. Now, that might be a voter that normally votes Democrat," he says. Parscale says the campaign would average 50-60,000 different ad versions every day, some days peaking at 100,000 separate iterations – changing design, colors, backgrounds and words – all in an effort to refine ads and engage users.
Parscale received help utilizing Facebook's technology from Facebook employees provided by the company who showed up for work to his office multiple days a week. He says they had to be partisan and he questioned them to make sure.  "I wanted people who supported Donald Trump."  Parscale calls these Facebook employees "embeds" who could teach him every aspect of the technology. "I want to know everything you would tell Hillary's campaign plus some," he says he told them.
Both campaigns used Facebook's advertising technology extensively to reach voters, but Parscale says the Clinton campaign didn't go as far as using "embeds." "I had heard that they did not accept any of [Facebook's] offers."
The conservative Parscale sees an irony in all this. "These social platforms are all invented by very liberal people on the West and East Coast.  And we figure out how to use it to push conservative values. I don't think they thought that would ever happen," says Parscale.
© 2017 CBS Interactive Inc. All Rights Reserved.
Brad Parscale tells Lesley Stahl how he fine-tuned political ads posted on … Parscale says he used the majority of his digital ad budget on …
Firstpost
The Keene Sentinel
–
1 hour ago
"Twitter is how (Trump) talked to the people; Facebook was going to be how he won," Brad Parscaletold "60 Minutes," according to an excerpt …
Wichita Eagle
–
Sep 19, 2017
Topeka native Brad Parscale recounted how he helped drive the campaign's Facebook strategy to electoral success while leading its digital …
Next Page of Stories
Loading…
Page 2
Next Page of Stories
Loading…
Page 3
Next Page of Stories
Loading…
Page 4
Next Page of Stories
Loading…
Page 5
Members of the law enforcement team who were the first to enter Stephen Paddock's hotel room after he opened fire on a crowd in Las Vegas.
CNN has previously reported that a note containing only numbers was found in the room. Those numbers were characterized as being significant to the gunman.
CBS News' "60 Minutes" first reported that Paddock's note contained handwritten calculations.
The note was found in the hotel suite at the Mandalay Bay Resort and Casino among 23 firearms, ammunition and the gunman's dead body. Paddock took his own life, authorities have said, after killing 58 people and wounding nearly 500.
Investigators have been combing through evidence left behind and Paddock's background for any hint as to what led the retired accountant to amass an arsenal of high-powered assault rifles, meticulously map out an attack and open fire on the crowd at last weekend's Route 91 Harvest Festival.
No sign of motive in sea of tips
Authorities have no credible information about Paddock's motive despite more than 1,000 leads and tips, Undersheriff Kevin C. McMahill said at a news conference Friday.
In the news briefing and an interview with CNN's Wolf Blitzer, McMahill released more details about the shooting and investigation Friday, including:
• A Mandalay Bay security guard who authorities believe drew Paddock's attention toward the hallway outside his hotel suite went to that floor to respond to an alarm due to an open door near Paddock's room. The guard, Jesus Campos, was shot in the leg while checking on the alarm. According to a police-reported timeline, Paddock never fired on the crowd below again after that.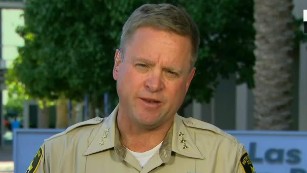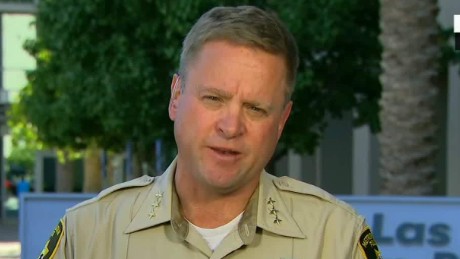 JUST WATCHED
Vegas police investigating if gunman had help
MUST WATCH
Loaded: 0%
Progress: 0%
0:00
Loaded: 0%
Progress: 0%
0:00
03:06
• The alarm from a room "a number of doors down" from Paddock's likely was a coincidence. The door was not forced open, had been open for a while and Paddock didn't have the keys to that room. McMahill said that door either had been left open or didn't shut completely.
• Investigators looking into Sunday's massacre have found no known nexus to terrorism or connections to ISIS.
• Authorities are confident there was not another shooter in Paddock's room but are still trying to determine whether anyone else knew of his plans.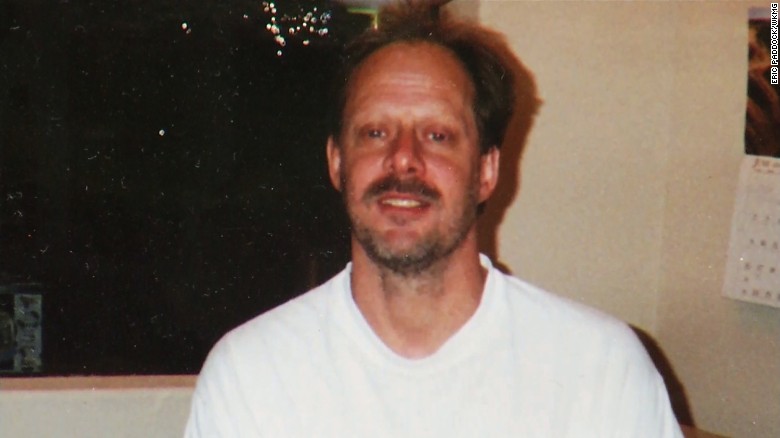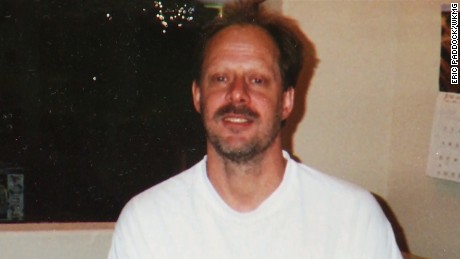 JUST WATCHED
Las Vegas gunman's gambling under scrutiny
MUST WATCH
Loaded: 0%
Progress: 0%
0:00
Loaded: 0%
Progress: 0%
0:00
03:05
• Authorities do not believe another person used Paddock's room key at the Mandalay Bay hotel.
• Investigators have reviewed "voluminous amounts of video" from different locations, including Mandalay Bay, and have not seen any other person they think at this point is another suspect.
• Asked about video on which Paddock might have discussed motive, McMahill said: "I am not aware that we have recovered any such video."
• Police don't know what the killer was going to do with 50 pounds of explosives found in his car.
• Paddock brought the 23 guns and ammunition he had in his hotel suite over the course of several days, the undersheriff told CNN.
• Paddock's girlfriend, Marilou Danley, continues to cooperate with investigators, her lawyer and McMahill each said Friday. Attorney Matthew Lombard said Danley wouldn't be making any more public statements in the near future.
Pence honors massacre victims
Vice President Mike Pence offered prayers and words of comfort for Las Vegas on Saturday, as he and his wife participated in a citywide "unity prayer walk" in honor of the shooting victims.
"We are with you today. Today we are all Vegas strong," Pence told participants gathered at City Hall. "President Trump personally asked us to be here to stand with you, to pray with you, for strength, comfort and healing."
The President visited Las Vegas on Wednesday. Like Trump, Pence praised first responders, saying, "Their actions undoubtedly saved lives that night."
"We find hope in the heroic actions in the Las Vegas Metropolitan Police Department, the fire department and all the first responders on that night who, without regard for their personal safety, rushed into harm's way," Pence said.
The vice president called the shooting "a tragedy of unimaginable proportions" and said, "Las Vegas came face to face with pure evil" that night.
Request to seize shooter's assets
The family of one of the concertgoers killed last weekend is asking a Nevada court to appoint a special administrator to take control of the shooter's assets.
John Phippen
, 56, of Santa Clarita, California, was at the festival with his son Travis when the shooting started. When the son, a medic, stopped to help someone, Phippen stayed with him and was shielding a woman when he was shot dead, said a neighbor, Leah Nagiyvanyi.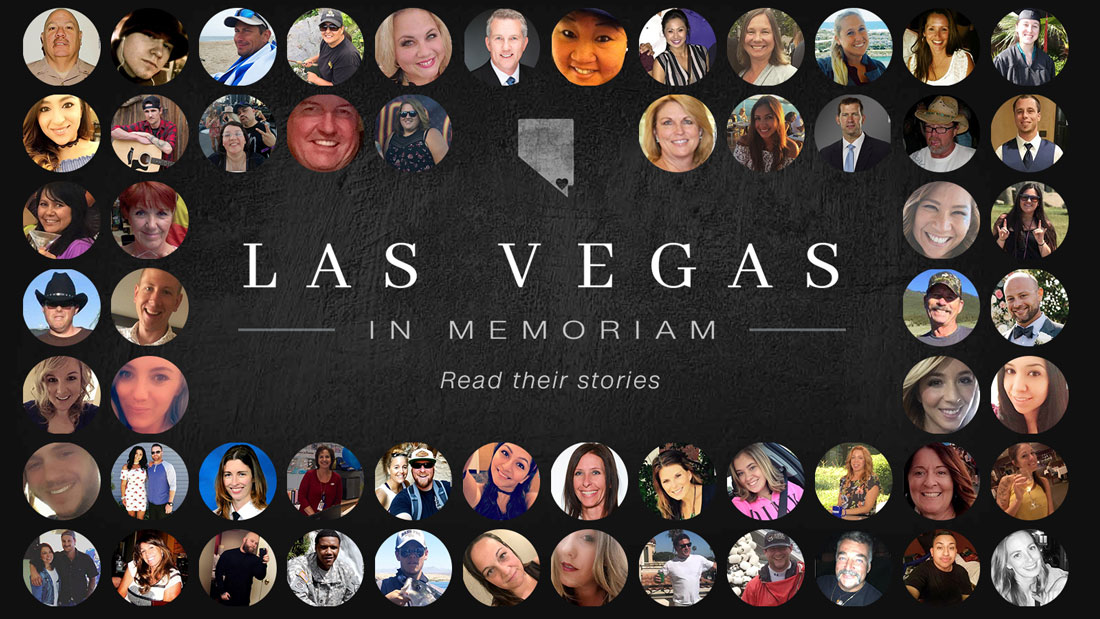 Attorneys for Phippen's family filed the petition Friday in District Court in Clark County. The petition asks a judge to appoint the county's public administrator to account for and control Paddock's estate — in part to make it available for any future lawsuits filed by the shooting victims.
Paddock, a gambler and retired accountant, owned a home in Mesquite, Nevada, and
 he was a successful real estate investor who owned apartments and houses. Sales agents told CNN that Paddock
 for his Mesquite home in 2014.
The court "will notify (Paddock's) family members, and we'll see where this goes," said Richard A. Patterson, a California attorney representing Phippen's son Travis.
"We want (Paddock's estate) administered by the court. I don't think we're at the bottom of (Paddock's assets)," Patterson said.
"We want someone to oversee the assets so it stays the way it is," said Nevada-based probate attorney Richard Chatwin, who is working with Patterson on the petition.
Source: Shooter tried to buy tracer rounds
Paddock tried to buy tracer ammunition at a gun show in the Phoenix area in recent weeks, a law enforcement official briefed on the investigation told CNN.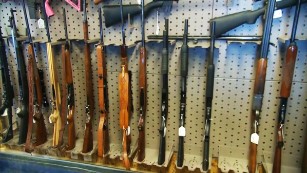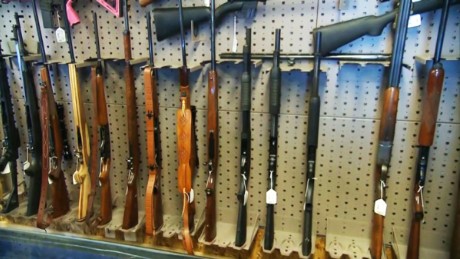 JUST WATCHED
33 gun purchases, no red flags
MUST WATCH
Loaded: 0%
Progress: 0%
0:00
Loaded: 0%
Progress: 0%
0:00
02:51
Paddock bought other ammunition at the show, but he couldn't obtain the tracer ammunition — bullets with a pyrotechnic charge that, when the round is fired, leaves an illuminated trace of its path — because the vendor didn't have any to sell, the official said.
Paddock did not use tracer bullets when he fired into the festival crowd hundreds of yards away.
The official explained that if Paddock had tracer ammunition, he could have had a more precise idea of where his shots were going in the darkness, and could have been more accurate.
Shooters wanting greater accuracy often mix tracer rounds with non-tracers — perhaps having one tracer every fifth round in a magazine, said Art Roderick, a CNN law enforcement analyst.
"It allows you to keep your weapon on not necessarily a specific target, but a specific area. … There would have been a lot higher casualty rate if he had tracer rounds," said Roderick, a former assistant director of the US Marshals Service.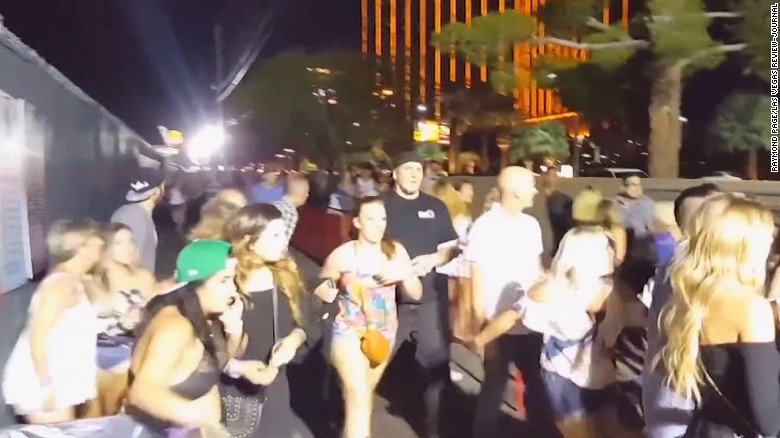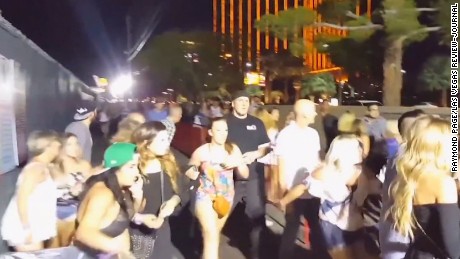 JUST WATCHED
New video shows concertgoers fleeing scene
MUST WATCH
Loaded: 0%
Progress: 0%
0:00
Loaded: 0%
Progress: 0%
0:00
02:57
But tracer rounds also could have allowed police to see Paddock's location more quickly, CNN law enforcement analyst James Gagliano said.
Without the tracer ammunition, Paddock's location was difficult to determine from the outside, said Gagliano, a retired FBI supervisory special agent.
"The barrel of the rifle — we could not see muzzle flashes, from the angles I've seen on videos, which meant that he was … pulled back inside," Gagliano said.
A source close to the investigation told CNN on Friday that authorities think Paddock might have fired at massive jet fuel tanks at McCarran International Airport near his hotel before shooting at the concert crowd.
Did Paddock want to escape?
Six days after the mass shooting, authorities are trying to determine the motivation of the retired accountant, who had no criminal record and did not raise any flags while accumulating his arsenal of weapons.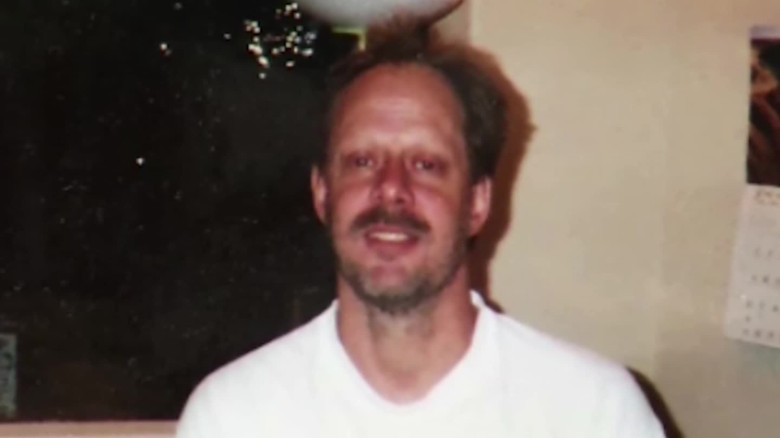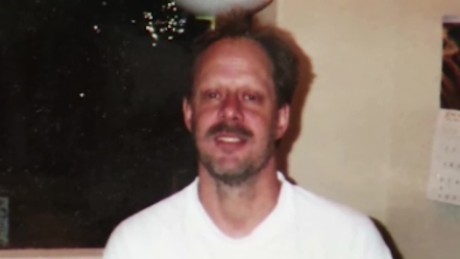 JUST WATCHED
What we know about the Las Vegas gunman
MUST WATCH
Loaded: 0%
Progress: 0%
0:00
Loaded: 0%
Progress: 0%
0:00
01:41
In addition to the weapons in his hotel suite, Paddock had more than 50 pounds of exploding targets and 1,600 rounds of ammunition in his car in the hotel parking lot, police said, fueling suspicion he intended to survive the massacre.
McMahill said Friday there was no evidence that Paddock intended to use the target material for a homemade bomb.
Escape, in this case, might have meant using the equipment in the car for further assaults until he got caught, said John Sheahan, a former Las Vegas SWAT team member.
"There's one of three ways it's going to end for an active shooter, and they pretty much all know this. You're either going to commit suicide; you're going to … shoot it out with (police) and you're going to be killed, or you're going to continue on a preplanned rampage at locations B, C, D and E until the police finally stop you," Sheahan said.
"He rented the room in his own name. He's already on video coming in and out. We know who he is. He's going to be the most wanted man in the world if he does try to leave here," he added.
CNN's Dave Alsup, Chris Boyette, Brian Todd, Kyung Lah, Evan Perez, Scott McLean, Sara Weisfeldt and Sheena Jones contributed to this report.
Read the whole story
· · · · · · · · · · · · · · · · · · · · · · · · · · · · · · · · ·
October 7, 2017 | 7:36pm | Updated October 7, 2017 | 7:54pm
Las Vegas mass murderer Stephen Paddock coldly calculated where he needed to aim to bolster his accuracy — and kill as many people as possible, according to a new report.
Officer Dave Newton of the Las Vegas Police Department's K-9 unit said he noticed a pink slip of paper Paddock left on his nightstand in the 32nd floor Vista suite at the Mandalay Bay Resort and Casino.
"I could see on it he had written the distance, the elevation he was on, the drop of what his bullet was gonna be for the crowd," Newton told "60 Minutes" in an interview that will air Sunday. "So he had that written down and figured out so he would know where to shoot to hit his targets from there."
Paddock murdered 58 people and wounded hundreds more attending the Route 91 Harvest Music Festival, across Las Vegas Boulevard from his suite at the hotel .
Sometime after his 10-minute shooting spree, Paddock killed himself.
Trending Now
on <a href="http://NYPost.com" rel="nofollow">NYPost.com</a>
Get real time stock quotes, the latest commodities, currencies, funds, rates, ETFs data and more from over 100 global exchanges.
You have successfully emailed the post.
A leaked photo of Stephen Paddock's hotel suite. Daily Mail/Business Insider
Investigators probing the deadly shooting rampage that unfolded on the Las Vegas Strip on Sunday night say that a piece of paper found in the gunman's hotel suite is not a suicide note.
Still, there has been much speculation about what may have been on that paper. Police so far have not commented on that detail.
Clark County Sheriff Joseph Lombardo said during a news conference on Wednesday night that there was evidence to suggest that the gunman, Stephen Paddock, had planned to get out of the Mandalay Bay Resort and Casino alive, but Lombardo did not elaborate further.
Lombardo, however, did say that Paddock had planned extensively for the shooting — those plans included keeping a vehicle at the hotel filled with explosive material and 1,600 rounds of ammunition, Lombardo said. He also suggested the cameras Paddock set up inside and outside his hotel room were an indication that he wanted to keep eyes on the hallway, perhaps to fend off approaching officers.
Paddock fired multiple rounds through his room door and into the hallway as a security guard identified as Jesus Campos approached, wounding Campos in the leg. The gunman killed himself as more police descended on his room.
Investigators have not publicly said what motivated Paddock to carry out the rampage, which is the deadliest mass shooting in modern US history. Fifty-eight people were killed, and hundreds more were injured.
Recommended For You Powered by Sailthru
Military & Defense Emails & Alerts
Get the best of Business Insider delivered to your inbox every day.
BI Intelligence Exclusive
Get the Slide Deck from Henry Blodget's IGNITION Presentation on the Future of Digital
Signed in as mikenova
Share this story on NewsBlur
Shared stories are on their way…
Read the whole story
· · · · · ·

CNN

Las Vegas victim's family wants shooter's assets seized

CNN

John Phippen of Santa Clarita, California, was at the festival with his son Travis when the

shooting

 started. When the son, a medic, stopped to help someone, Phippen stayed with him and was shielding a woman when he was shot dead, said a neighbor, Leah …
Next Page of Stories
Loading…
Page 6
Next Page of Stories
Loading…
Page 7
During the course of Donald Trump's Russia scandal, several prominent Russians and Russia-connected individuals have died in mysterious fashion, most or all of whom had direct or indirect connections to the scandal and its attempted coverup. It's believed, but not proven, that Russian President Vladimir Putin has been strategically taking them out to protect himself and/or Trump. Now another prominent Russian has dropped dead, and this time it's hitting closer to home for Trump – literally.
Boris Kogan is best known for two reasons – well, three reasons as of today. He owned a condo in Trump Tower in New York, which he had in Julia Kogan's name, until May of this year when he sold it. This means he was a tenant in the same building where Trump lived during the election. He's also rather famously a Russian arms dealer, having exported Russian weaponry around the world (link). And as of today, he's mysteriously dropped dead.
The news publication ukr.media has posted a Ukrainian-language article announcing that Boris Kogan has died (link). The article was first brought to our attention by political researcher Olga Lautman on Twitter. When run through Google Translate, the article says "An unpopular, but influential Odessa businessman Boris Kogan, died of a heart attack in one of the clinics of the Black Sea city." This is notable because nearly every time a prominent Russian has dropped dead during the Trump-Russia scandal, Russian officials have blamed it on a heart attack, no matter the physical injuries sustained by any of them. Two of them had severe head wounds, yet Russia still insisted they died of heart attacks.
It's not immediately clear what specific motive Vladimir Putin would have for eliminating Boris Kogan, unless he played a role in the Trump-Russia scandal that hasn't yet been exposed. While it's entirely possible that Kogan did indeed die of a heart attack, when placed in the larger context of the trail of dead Russians, his death stands out as suspicious – particularly considering that he was tenant in the building where Trump was living during the election.
The post Controversial Russian, a tenant in Donald Trump's home of Trump Tower, mysteriously drops dead appeared first on Palmer Report.
 Palmer Report
В Одессе внезапно умер крупный бизнесмен Борис Коган. По данным источников в окружении предпринимателя, коммерсант умер у себя дома из-за проблем с серцем, пишет «Думская».
Коган начинал трудовую деятельность простым таксистом, а разбогател на международной торговле оружием. Он был миноритарным акционером и членом правления компании «РТ-Логистика», 51% акций которой принадлежит России. Компания входит в состав консорциума «Ростех», занимающегося разработкой, производством и экспортом промышленной продукции гражданского и военного назначения. Консорциум возглавляет друг Путина Сергей Чемезов. «РТ-Логистика» отвечает в группе за транспортное направление.
Кроме того, Когану принадлежали два «Морских бизнес-центра» на Польском спуске в Одессе и океанская яхта Lady K, которую он купил у наследников российского олигарха Бориса Березовского. Она часто появляется на Одесском морвокзале (последний раз ее видели там 3 октября).
При этом бизнесмен ранее владел апартаментами в нью-йоркском небоскребе Trump Tower, которые продал за $2 млн сразу после инаугурации Дональда Трампа.
New York Post
–
Mar 9, 2017
Trump Tower sells first condo since Trump's inauguration … full cost, not from a traditional bank, but directly from Boris Kogan, the co-founder of …
При этом бизнесмен ранее владел апартаментами в нью-йоркском небоскребе Trump Tower, которые продал за $2 млн сразу после …
<a href="http://NYTimes.com" rel="nofollow">NYTimes.com</a> no longer supports Internet Explorer 9 or earlier. Please upgrade your browser. 
LEARN MORE »
Signed in as mikenova
Share this story on NewsBlur
Shared stories are on their way…
Signed in as mikenova
Share this story on NewsBlur
Shared stories are on their way…
Next Page of Stories
Loading…
Page 8

Chicago Tribune

Donald Trump is on track to win again in 2020

Chicago Tribune

More than half of Americans don't think 

Donald Trump

 is fit to serve as president, yet he has a clear path to winning re-election. If Trump isn't removed from office and doesn't lead the country into some form of global catastrophe, he could secure a 

…