Next Page of Stories
Loading…
Page 2
Saudi Arabia has been "not normal" for the past 30 years and will soon return to a "moderate Islam" according to recent comments from the kingdom's Crown Prince, who attributed the country's adherence to hardline Islam to fallout from the Iranian revolution.
"What happened in the last 30 years is not Saudi Arabia. What happened in the region in the last 30 years is not the Middle East," Mohammed bin Salman, the heir to the Saudi throne told the Guardian Tuesday.
"After the Iranian revolution in 1979, people wanted to copy this model in different countries, one of them is Saudi Arabia. We didn't know how to deal with it. And the problem spread all over the world. Now is the time to get rid of it," he continued.
Read more: What Saudi Women Need More Than a Driver's License
The crown prince's comments are the latest indication of a softening in the values of Saudi Arabia, which gloms to a fiercely puritanical strain of Sunni Islam. They also coincide with his attempts to consolidate his authority and break with hardline clerics that have long held sway over the House of Saud. Last month, the Kingdom lifted a ban on women driving cars, according to local media. Authorities have also loosened guardianship rules that restrict women's access to jobs, higher education and medical procedures
At an earlier investment summit in Riyadh, Salman remarked on the country's young population. "We won't waste 30 years of our life combating extremist thoughts, we will destroy them now and immediately," he said, according to the Guardian.
Read more: Rex Tillerson Seeks Help From Arab Nations in the U.S. Effort to Isolate Iran
At the summit, Saudi touted proposals for a $500bn independent economic zone, an ambitious attempt to diversify the kingdom's almost entirely oil dependent economy. The new economic zone will spill over Saudi's borders into neighboring Jordan and Egypt and, according to the Guardian, include a tourist hub in which men and women will be allowed to mingle freely.
Read the whole story
· · ·
10:07 AM 10/24/2017 – This is the attempt to control and manage the electoral system, not just to undermine trust in it. – M.N. – 10.24.17
Weeks after Hurricane Maria hit Puerto Rico, nearly 80 percent of the island remains without power.
Typically, power companies rely on "mutual aid" agreements with other utilities following natural disasters — both Texas and Florida recently activated those agreements to help residents get power back.
But the Puerto Rico Electric Power Authority, or PREPA, has opted out and hired a tiny contracting firm from Montana instead.
"PREPA couldn't afford it," says David Ferris, a reporter for the industry publication E&E News. The agency is $9 billion in debt, and mutual aid agreements are expensive to repay.
Whitefish Energy saw an opening and signed a $300 million contract with PREPA last week.
"There were other companies offering to do the work," says Ferris "but because of PREPA's perilous financial situation, those other parties wouldn't necessarily just jump in. But Whitefish was ready to."
Whitefish is responsible for rebuilding "a major spine of the transmission system that will connect the southern part of the island, where most of the power plants are, to the northern part of the island where the capital is and where most of the power users are," says Ferris.
PREPA's decision to hire Whitefish Energy is unusual, and drawing some scrutiny. The for-profit company had just two full-time employees when Hurricane Maria made landfall, and is based in US Interior Secretary Ryan Zinke's hometown in Montana.
"You have a small, untested power company going in to help a desperate, bankrupt utility," says Ferris. "We simply don't know what that's going to look like or how long it's going to take."
To hear more from David Ferris about Whitefish Energy listen above.
Download audio: https://www.podtrac.com/pts/redirect.mp3/cdn.pri.org/sites/default/files/segment-audio/10242017_01.mp3
Read the whole story
· · ·
A liberal activist infiltrated a press area outside a Senate GOP lunch.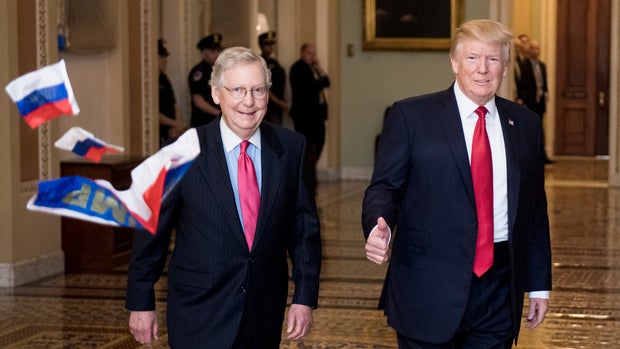 Next Page of Stories
Loading…
Page 3
Next Page of Stories
Loading…
Page 4
Comics including Stephen Colbert, Trevor Noah and Seth Meyers, addressed Trump's call with the widow of a fallen soldier and the GOP's tax reform plan
Late-night hosts on Monday discussed Donald Trump's ongoing feud with congresswoman Frederica Wilson, the GOP's plan for tax reform, and Trump's false statement that he is allowing previously unreleased files about the JFK assassination to be made public.
"This weekend, the president sat down with Fox News host and salon haircut photo number seven, Maria Bartiromo, and Maria immediately held Trump's feet to the fire to make sure they were nice and cozy," began Stephen Colbert. The host then showed footage from Bartiromo's interview with the president, in which she begins by crediting him for the stock market boom.
Related: Trevor Noah: 'If you work for Trump, find a new job or stock up on adult diapers'
Related: Trump bickers with soldier's widow over condolence call
Mike Nova's Shared NewsLinks Review In Brief
The World Web Times – worldwt.com


Shared Articles | The World News and Times – Information Management Service: Current World News | Reviews of media reports | Selected reading lists | Video and Audio News | News Topics RSS Feeds | News, Reviews, Analysis, Opinions
Next Page of Stories
Loading…
Page 5