Putin, the price of oil, and the Weather Weapons – GS
8.28.17 – Hurricane Harvey And The Price Of Oil
8.28.17 – Hurricane Harvey And The Price Of Oil
______________________________
Shared Articles: 
putin, price of oil, and weather weapons – Google Search
Moscow, Russia, July 31, 2017 –  The main building of the Russian Foreign Ministry.President Vladimir Putin on July 30 said the United States would have to cut 755 diplomatic staff in Russia and warned of a prolonged gridlock in its ties after the US Congress backed new sanctions against the Kremlin. (Photo credit:  ALEXANDER NEMENOV/AFP/Getty Images)
On the streets of Moscow things look pretty much the same as they did before the first round of sanctions were levied to punish Russia for its actions in Ukraine and the Crimea: no shortages in the shops, prices in restaurants actually lower than before sanctions went into effect. Head to the outskirts of the big cites into the countryside, and aside from the occasional oligarch's outrageously lavish dacha, you see poverty. Just as you would have seen ten, 20, 50 years ago. These are the people who never benefitted from the hey days of high oil prices and whose lives, under sanctions, also haven't changed.
That's because there's been no trickle-down in post-Soviet Russian economy: those in leadership positions when Communism collapsed took what they could with permission; others took what was in front of them and sold it where they could find a market. That includes objectionable good such as weapons and uranium to objectionable clients.
As economist Andrey Movchan, director of the Economic Policy Program at Carnegie Moscow Center writes in his report, Decline, Not Collapse: The Bleak Prospects for Russia's Economy, "By the time Russian President Vladimir Putin took power in 2000, the majority of key assets were owned either by the state or by a small group of private individuals who had obtained these assets from the state in return for political obedience and loyalty." Movchan and I met in Moscow recently to discuss the impact of sanctions and the future of the Russian economy for this blog.
Operating Without Money
It helps to remember that not only is Russia a country that can endure hardships like no other, but it is also accustomed to operating without money. Favors and personal privilege are equally valuable, if not more desirable, commodities with which to barter. And even under Communism everyone, including the government, depended on the black market for goods and services. It was the closet things Soviet Russia had to Capitalism, during a time when private enterprise could get you sent to a gulag if you were lucky, or to a firing squad if you were not. So it should come as no shock that those best able to handle the overnight shift in economic ideology were the black marketeers who had the experience of private enterprise and lacked the average Russian's inbred fear of acting on his or her own.
Moscow, Russia, July 31, 2017 – A view overlooking Red Square and  beyond, showing the Kremlin, the History Museum and the Cathedral of Christ the Savior (gold dome). (Photo credit:  MLADEN ANTONOV/AFP/Getty Images)
There followed in the 1990s a transition period consisting of a liberal economy but no governance. Russia was a real wild east. Then-President Boris Yeltsin's inability to manage the government led to stalemate in the state Duma (Parliament) and wanton disorder in the business world, involving not just corruption but sometimes murder. Putin's ascent to power brought much of the mayhem to a halt and regained state control of the country's oil production and trading business, which had been lost during the 1990s, under what then passed for "privatization." Putin, writes Movchan, "arrested the rebellious oligarch Mikhail Khodorkovsky in 2003, nationalized his Yukos oil company, and ensured all other oligarchs got the message and would obey."
By 2008, Movchan says, up to 70% of the Russian budget either directly or indirectly consisted of hydrocarbon export revenues. By 2013, no more than 10% of the country's GDP came from the independent private sector or non-mineral-resource production. Meanwhile, Movchan writes, though inflation had been running at 6.5% in 2013 and GDP growth did not exceed 1.3%, real wages – thanks to Russia's social policy which Movchan calls "reckless" – exceeded 11.4%.
"This was also the period when many people sold their businesses to the state. Took their money and went abroad," Movchan claims. "That meant that the state controlled more than 70% of businesses – more than under (the last Communist leader) Mikhail Gorbachev, when the state control was 60%," he says. "Today maybe 25% of GDP is in the hands of the private sector."
State Secrets
Movchan says he's loathe to accept state-generated statistics on the economy at face value because, he writes, "more than 30% of it is classified as 'secret'. It is generally believed that the classified items in the budget are used to finance the military-industrial complex and security agencies, but there is indirect evidence suggesting that these funds may have many other uses as well. They may range from financing 'friends of Russia' abroad, to closing gaps in the balance of state-controlled companies and allowing top officials to make personal purchases." Opacity, it seems, is a national characteristic rather than a fabricated Soviet-era construction.
Read the whole story
· · · · ·
From Russia to America, and from Scotland to the Middle East, the dramatic fall in the price of oil — down by nearly half in six months — has sparked an economic crisis that threatens to shift the global balance of power in dramatic fashion.
As Russia teeters on the edge of crisis, America and Saudi Arabia are using the depressed oil market to wreak havoc on enemies such as Iran. The repercussions are being felt closer to home, too, with the North Sea oil industry described as being close to collapse.
The good news is that it's cheaper to fill up your car at the pumps, but what does it mean for Britain's national security?
Here, the Economist magazine's Energy Editor EDWARD LUCAS offers a simple guide to these deeply turbulent times.
Scroll down for video
Copy link to paste in your message
The dramatic fall in the price of oil – down by nearly half in six months – means that is that it's cheaper to fill up your car at the pumps, but what does it mean for Britain's national security?
RUSSIA IN MELTDOWN
The world has become used to Vladimir Putin giving tub-thumping speeches about the glory of modern Russia. His three-hour press conference last Thursday — by turns bombastic and duplicitous as he deflected questions about his country's teetering economy — was no exception.
Railing against the sanctions enforced by the EU and America in response to the annexing of Crimea, he warned darkly against shackling the Russian bear and tearing out its 'fangs and claws'.
During a recent visit to Turkey, however, he was forced to adopt a very different tone, announcing in clipped and petulant terms that his country's prized new South Stream gas pipeline to Europe would not be going ahead.
Share this article
Share
1.6k shares
The £25 billion pipeline across the Black Sea and the Balkans would have given the Kremlin a stranglehold on the energy supplies of a slew of European countries — Italy, Bulgaria, Serbia, Croatia, Slovenia, Hungary and Austria.
It would also have contemptuously demonstrated Russia's superiority over the European Union, which had ruled the pipeline plans illegal. (The rules of the European energy market — strongly backed by Britain — say that the same company cannot own both a pipeline and the gas that runs through it because it gives them too much control over supply and pricing.)
But Putin has had to eat humble pie and cancel the whole project.
Copy link to paste in your message
Putin, pictured, has had to eat humble pie and cancel the planned £25 billion pipeline across the Black Sea and the Balkans
Why? The collapse in the oil price across the world — down by nearly half since June — is emptying the Kremlin's coffers.
As the third-biggest oil producer in the world, Russia is heavily dependent on a buoyant price, deriving more than half of its budget revenues from oil and gas extraction.
The kleptocrats in the Kremlin rely on oil and gas exports to sustain Russia's bloated and bribe-ridden bureaucracy, as well as its ruthless aggression against other countries.
But the price per barrel of oil hit a five-year low of $58.50 last week, and though it has recovered slightly, it is still far too low to keep Mr Putin's regime running at full blast, especially given the economic sanctions the West has imposed.
No wonder the value of the rouble has plummeted, causing panic buying in Russia, the movement of money out of the country and even the jacking-up of interest rates to an eye-watering 17 per cent in a bid to stop the currency sliding further. So these are very bad times for Russia, where no one has forgotten that low oil prices brought down the Soviet Union in 1991 by eviscerating its economy. Today, they could spell doom for Putin's attempt to recreate that Soviet empire.
He has naively set out his spending plans for the next three years based on an oil price of around $100 a barrel — which now looks wildly optimistic.
But though the Kremlin is weakened, we should not count our blessings yet. For there is a danger that the Russian autocrat will lash out militarily, distracting his hard-pressed people with another foreign policy gambit aimed directly at humiliating Nato in Europe.
With that in mind, some feel that now is the time to go easy on Mr Putin. He has learned a hard lesson from this collision with reality; we should not push him too hard, the argument goes. Instead, we should offer him a face-saving deal on the situation in Ukraine, offer to lift sanctions and prevent the Russian economy from staggering over a cliff.
I disagree. Putin does not want a deal with the West. He wants to rewrite the rules of European security. Only if we accept that countries such as Ukraine are to be consigned to Russia's control will the hard men of the Kremlin be satisfied.
That is a concession we cannot and should not make. If we concede Ukraine, we signal that might is right. What happens when Mr Putin tries his tricks on another country — perhaps our Nato allies in the Baltic states?
Oil prices fall to lowest in five years due to slow EU [Related]
Loaded: 0%
Progress: 0%
0:00
LIVE
MinimizeExpandClose
Copy link to paste in your message
As the third-biggest oil producer in the world, Russia is heavily dependent on a buoyant price, deriving more than half of its budget revenues from oil and gas extraction. Above, a board in Moscow shows a slump in the country's currency – a knock-on effect from the slide in oil prices
THE HUMBLING OF OPEC
For all our worries over Russia, however, we in Britain should not lose sight of the humiliation of another swaggering and once-mighty force in world politics, the Organisation of Petroleum Exporting Countries (OPEC). When it burst on the world scene 40 years ago, OPEC terrified the wasteful West.
Over the previous decades, we had grown used to abundant oil, bought mostly from Middle Eastern producers — with little global muscle — at rock- bottom prices.
However, OPEC changed that. By restricting supply, the cartel quadrupled the oil price, from $3 to $12.
Copy link to paste in your message
Saudis remain in a strong position because oil is cheap to produce there. Above, the country's Minister of Petroleum and Mineral Resources Ali Ibrahim Naimi
That is only a fraction of today's price — but the oil crisis sparked by the rocketing cost in 1974 was enough to lead to queues at filling stations and national panics in the pitifully unprepared industrialised world.
Four decades later, Saudi Arabia has become one of the richest countries in the world, with reserves totalling nearly $900 billion.
But the rest of the world is less at its mercy than it once was. Here in Britain, our energy consumption is dropping remorselessly — the result of increased energy efficiency.
Moreover, many other nations now produce oil. And oil can be replaced by other fuels, such as natural gas, which OPEC does not control.
Also, OPEC no longer has the discipline or the clout to dominate the market, and we in Britain are among the big winners from all this, reaping the benefits of lower costs to fill up our cars and power our industries.
At its meeting in Vienna last month, the OPEC oil cartel — which controls nearly 40 per cent of global production — faced a fateful choice.
Would it curb production and thus, by reducing supplies, try to ratchet the oil price back to something near $100 a barrel — the level most of its members need to balance their books? Or would it let the glut continue?
The organisation's 12 member countries, including Saudi Arabia, Iran, Iraq, Kuwait, Venezuela and Nigeria, chose to do nothing, proving that its once-mighty power has withered. Oil prices subsequently fell even further.
One central problem is that several of OPEC's members detest each other for a variety of reasons.
Above all, Saudi Arabia and its Gulf allies see Iran — a bitter religious and political opponent — as their main regional adversary.
They know that Iran, dominated by the Shia Muslim sect, supports a resentful underclass of more than a million under-privileged and angry Shia people living in the gulf peninsula — a potential uprising waiting to happen against the Saudi regime.
The Saudis, who are overwhelmingly Sunni Muslims, also loathe the way Iran supports President Assad's regime in Syria — with which the Iranians have a religious affiliation. They also know that Iran, its economy plagued by corruption and crippled by Western sanctions, desperately needs the oil price to rise. And they have no intention of helping out.
 The fact is that the Saudis remain in a strong position because oil is cheap to produce there, and the country has such vast reserves. It can withstand a year — or three — of low oil prices
The fact is that the Saudis remain in a strong position because oil is cheap to produce there, and the country has such vast reserves. It can withstand a year — or three — of low oil prices.
In Moscow, Vladimir Putin does not have that luxury — and the Saudis know it.
They revile Russia, too, for its military support of President Assad, and for its sale of advanced weapons to Iran.
HOW FRACKING CHANGED THE WORLD
But if geopolitics and ancient enmities are playing a big role in the price of oil, so is modern technology.
Astonishingly, America has now overtaken Saudi Arabia as the world's largest producer of crude oil.
That comes not from the traditional American oil industry, exemplified by J.R. Ewing in the TV series Dallas, but from fracking — pumping water and sand at high pressure into oil-and-gas-bearing shale rock.
America is a world leader in this technology. Costs are low and the geology is favourable: the regions in America where drilling is done for shale gas and oil are thinly populated — such as Oklahoma and North Dakota.
Not surprisingly, the Saudis are worried by America's fracking revolution. And the more Westerners switch from oil to other fuels — such as gas or even solar energy — the worse it is for the nations which survive on oil exports.
Copy link to paste in your message
The truth is that the shale juggernaut will only be slowed, not halted. In time, it will reach other countries, too, including Britain if David Cameron has his way. Above, Mr Cameron tours a shale drilling plant oil depot
Saudis note with alarm the growth in energy efficiency. Every barrel of oil not consumed in the West is profit lost.
So they hope that a low oil price will at least slow the development of fracking in America — and it is true that a low oil price is bringing bankruptcy for the riskiest drillers in the new American exploration fields.
The truth is, however, that the shale juggernaut will only be slowed, not halted. In time, it will reach other countries, too, including Britain if David Cameron has his way .
The truth is, however, that the shale juggernaut will only be slowed, not halted. In time, it will reach other countries, too, including Britain if David Cameron has his way
Indeed, one really big question is how we use the cash windfall that comes with a dramatically lower oil price. Will we take the opportunity to improve Britain's energy efficiency and diversify our supplies to protect against an eventual rise in the cost per barrel?
WILL THE NORTH SEA CRISIS RUIN SCOTLAND?
The most pressing issue for Britain is the fate of the North Sea basin, where costs are rising as oil and gas fields are depleting and exploration becomes more difficult.
'It's almost impossible to make money at these prices — it's a huge crisis,' the chairman of the independent oil explorers' association said last week.
That is bleak news for the tens of thousands of workers employed in our offshore industry and their families.
But it is even worse news for the Scottish Nationalists. Their dreams of an independent Scotland were balanced precariously — ludicrously, some said — on the idea that oil and gas revenues would pay for the lavish socialist spending and bloated bureaucracy they hold dear. Now, their sums simply no longer add up.
Copy link to paste in your message
If the oil price stays down, Scotland's only hope is to cling tightly to the security — and subsidies — which the Union with England brings. Above, the Cleeton North Sea oil platform
This week, an Office of Budget Responsibility simulation concluded that Scotland's North Sea oil revenues would have slumped to just one-fifth of Holyrood's forecasts within a year of independence if there had been a Yes vote in the recent referendum.
In 2012, The Economist magazine — for whom I am the energy editor — mocked the SNP's optimistic economics with a cover story which dubbed Scotland 'Skintland', renaming the capital city 'Edinborrow'.
The then SNP leader Alex Salmond said we would 'rue the day' that we published this 'sneering' piece. His party pals said we were 'patronising and eccentric'. But we were right.
If the oil price stays down, Scotland's only hope is to cling tightly to the security — and subsidies — which the Union with England brings.
Copy link to paste in your message
The SNP's dreams of an independent Scotland were balanced on the idea that oil and gas revenues would pay for the lavish socialist spending and bloated bureaucracy they hold dear. Above, party leader Nicola Sturgeon
SO WHAT OF THE FUTURE?
The good news is that, even as high-cost oil producers are being squeezed by falling prices, it is a different story for consumers.
A $40 fall in the oil price shifts some $1.3 trillion from producers to consumers each year, largely through tumbling prices at the petrol pumps.
The RAC believes that petrol could fall to below £1 per litre — a price not seen since May 2009. That will keep millions of pounds in motorists' pockets.
But they should not spend it on champagne — at least, not yet.
Oil production still rests on some of the most ill-run and fragile states in the world. Iraq produces 3.4 million barrels a day, and Libya another million.
That is half of the total produced by America. But both countries are precariously balanced on the edge of collapse. Libya is no longer a functioning state, riven by a bloody struggle between parliamentary forces and Islamist militias.
Iraq has already come perilously close to succumbing to the fanatical fighters of the so-called Islamic State.
The big picture is that the world is changing for the better: a number of despotic regimes —notably Russia's — that depend on looting their country's natural resources are facing a well-deserved comeuppance.
The question is whether they accept their fate, or whether the power of black gold to spark violent upheaval will see us all sucked into conflicts that could shake the world.
Edward Lucas is energy editor of The Economist.
Read the whole story
· · · · · · · · · · · · · ·
Published on Aug 13, 2016
Weather War HAARP, Ekim Rrac WTF Report
"HAARP is a weather warfare weapon of mass destruction, capable of destabilising agricultural and ecological systems globally."
"'Climatic warfare' potentially threatens the future of humanity, but has casually been excluded from the reports for which the IPCC received the 2007 Nobel Peace Prize."
50 Miles Above Earth, Seemingly Embedded In Earth's Ionosphere, These Massive Digital Disk Electronically Stimulate and Heat Millions of Square Miles of Earth's Ionosphere Condensing Every Drop of Moisture From This Tainted Atmosphere.
This is happening all over the world https://www.google.com/search?q=stran…
Weather warfare is the use of weather modification techniques such as cloud seeding for military purposes.
Prior to the Geneva Convention, the United States used weather warfare in the Vietnam War. Under the auspices of the Air Weather Service, the United States' Operation Popeye used cloud seeding over the Ho Chi Minh trail, increasing rainfall by an estimated thirty percent during 1967 and 1968. It was hoped that the increased rainfall would reduce the rate of infiltration down the trail.[1]
With much less success, the United States also dropped salt on the airbase during the siege of Khe Sanh in an attempt to reduce the fog that hindered air operations.
A research paper produced for the United States Air Force written in 1996 speculates about the future use of nanotechnology to produce "artificial weather", clouds of microscopic computer particles all communicating with each other to form an intelligent fog that could be used for various purposes. "Artificial weather technologies do not currently exist. But as they are developed, the importance of their potential applications rises rapidly." Weather modification technologies are described in an unclassified academic paper written by airforce officer-cadet students as "a force multiplier with tremendous power that could be exploited across the full spectrum of war-fighting environments." [2]
Next Page of Stories
Loading…
Page 2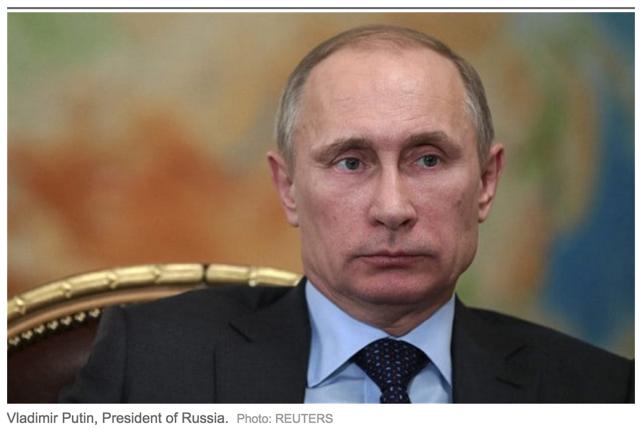 Despite what his lieutenant, oil minister Alexander Novak, said yesterday about how an oil production freeze cap is not needed, Russian President Vladimir Putin came out today saying: "It would be right to find a compromise … We think it is the right decision for global energy markets."
As we said in our article yesterday, Russia secretly craves higher oil prices. In the game of oil politics, Novak is just a pawn in the grand scheme of things. The person really calling the shots in Russia is Putin, and his intentions have been revealed. We highly doubt that, despite what his lieutenant said yesterday, these words would slip out of his mouth accidentally. Russia's economy is in "suffering territory." Putin has done a remarkable job keeping his political prowess high while keeping his people content. Russia's economy is heavily dependent on commodity prices, and with the U.S. sanctions, the one-two punch definitely delivered a blow.
Now, one could speculate whether the fall in oil prices immediately following the Russian sanctions was some type of attack on Russia. But what we know now is that Russia won't fall like it did in 1998. Its foreign reserve is enough to survive the "lower for longer" scenario, and its oil production has actually climbed during the downturn.
Going forward, we think the recent tone shifts from the likes of Russia and Saudi Arabia point to higher oil prices. Despite our belief that a production freeze deal is slim to none, recent news coverage hints at a slight possibility of something happening this month. Looking at every single sell-side report, there isn't a single firm that's forecasting a potential agreement. Given that the consensus is overwhelmingly on one side, it could result in a potential price spike if some agreement does come through.
Thank you for reading our Oil Markets Daily. If you would like to read more dailies from us, please be sure to hit the follow button. For those interested on the outlook of oil prices, HFI Research publishes a weekly outlook for premium subscribers. If you are interested, please direct message us for more information.
Disclosure: I/we have no positions in any stocks mentioned, and no plans to initiate any positions within the next 72 hours.
I wrote this article myself, and it expresses my own opinions. I am not receiving compensation for it (other than from Seeking Alpha). I have no business relationship with any company whose stock is mentioned in this article.
Read the whole story
· · ·
In the early 2000s, the Russian and U.S. presidents, Vladimir Putin and George W. Bush, decided it was time their two countries had a closer relationship. The obvious place to start was the oil industry. The U.S. was importing almost twice as much crude as it produced and wanted to diversify away from Middle Eastern suppliers. Russia's vast, untapped reserves of oil needed two things U.S. companies had plenty of: money and technology.
In October 2002 the inaugural U.S.-Russia Commercial Energy Summit convened in Houston. Over two days, members of both governments and executives from 70 oil and gas companies mingled and talked business. Eleven months later, a second summit was held in St. Petersburg, where the focus was on improving the climate for energy investment in Russia. A closer relationship seemed to be developing, but there would be no third summit.
By 2004 the Kremlin had begun nationalizing portions of Russia's private energy sector, most notably seizing the assets of Yukos, the largest oil company. At home, U.S. drilling companies were developing fracking technology to unlock oil and gas from shale formations, and they were reluctant to share their knowledge with the Russians. "The U.S. became quite cautious, and so the basis for establishing this harmonized relationship was destabilized," says Igor Yusufov, Russia's energy minister from 2001 to 2004 and a key participant in the energy summits.
Yusufov, who now runs an energy investment fund, is hoping that incoming U.S. President Donald Trump will restart the high-level meetings. Trump has vowed to improve relations with Russia and has tapped former ExxonMobil Chief Executive Officer Rex Tillerson to serve as secretary of state. Tillerson arguably has more Russia experience than any other U.S. executive, having negotiated a $500 billion joint venture with Kremlin-controlled Rosneft in 2011.
The potential for a new era of constructive relations between the U.S. and Russia will likely be a topic of discussion in the hallways of Davos, where the attendee list reads like a who's who of the oil industry. A lot has changed since Yusufov was clinking glasses with then-Energy Secretary Spencer Abraham. The U.S. is poised to become a net energy exporter in the next decade, according to the U.S. Energy Information Administration. In time, American oil and gas could compete with Russian supplies, exerting pressure on global prices. Cheap energy isn't exactly good for the Kremlin, which has been starved of revenue since the crash in oil prices.
A first step in any rapprochement would be to lift the sanctions that the Obama administration put in place in retaliation for Russia's incursions into Crimea and Ukraine. "If he wants a better relationship with Russia, Trump can start by dropping the sanctions," says Steven Pifer, who served as deputy assistant secretary of state in the Bureau of European and Eurasian Affairs with responsibilities for Russia and Ukraine from 2001 to 2004. The question is what does the U.S. get in return. "If you take the sanctions off, you have no leverage," Pifer says. Speaking at his Jan. 11 confirmation hearing, Tillerson called sanctions a "powerful tool" but said that poorly designed sanctions can be worse than having none at all.
Carlos Pascual, who led the Department of State's Bureau of Energy Resources from 2011 to 2014, says any reevaluation of the relationship with Russia will have to include the issue of cyber attacks, the situation in Syria, and Russia's role in the Mideast. There's also the question of whether a Tillerson-led State Department would work in concert with U.S. companies trying to exploit opportunities in Russia. Richard Morningstar says that when he was U.S. ambassador to the Republic of Azerbaijan from 2012 to 2014, "the State Department people and the Exxon people were like two ships passing in the night," even though both camps were deepening their engagement on energy issues in Russia and the surrounding area.
Morningstar, who now runs the Global Energy Center at the Atlantic Council in Washington, wonders if a Trump administration will prioritize closer ties with Russia over geopolitical issues. "Will he care what role Russia plays as a primary supplier of gas to Europe?" he asks. "There is also the question of how a potential reset with Russia flies in the face of a desire in the U.S. to sell more to Europe."
Yusufov brushes aside talk of competition and instead emphasizes how the two countries could cooperate to stabilize a volatile oil market. "We could combine our efforts to establish prices that would be of benefit to both countries," he says. A range of $60 to $80 a barrel would be high enough for the Kremlin to plug its budget hole and for U.S. frackers to start investing in new projects—though not so high that drivers in the U.S. would feel too much pain. "This could be the essence of the discussion of a Russian-American energy summit as it was 15 years ago," Yusufov says.
The bottom line: U.S. and Russia may struggle to carve out room for energy cooperation now that America is also a big oil and gas producer.
Read the whole story
· · ·
Next Page of Stories
Loading…
Page 3
In a world inundated with cheap crude oil, and with storage spots filled almost to the brim, it might seem that long lines at the gas pump and high prices per gallon are history. But long lines and high prices may come back, in the new world of Trump-Putin geopolitics.
Trump the candidate vowed to "bomb the hell" out of oilfields controlled by ISIL. He called for stealing oil from other countries, later saying he meant to reimburse America for costs of its invasion of Iraq and other Middle East military actions. During the campaign he declared "I'm good at war in a certain way"and "I love war… including with nukes, yes, including with nukes."
Whether that was Trump's actual intent or just red meat for his base remains to be seen, but bellicose talk can lead to war—and war is very bad for continuity of oil supply.
Cheap hydrocarbons are not a pure good. They dampen demand for renewables like solar and wind that help slow climate change.
And, of course, oil is just one form of stored sunlight. Earth holds layer upon layer of natural gas, frozen methane, and the carbon rocks we call coal as well as the liquid gold we call oil.
Economist Ross McCracken, managing editor at Platts Energy Economist, says that even with large amounts of North American shale oil the world remains dependent for oil "on an unstable Middle East. There is enough oil in the world, but supply chains will remain dominated by the geology of the Middle East and the geography of demand."
Adding to the global glut is Iran, which—with the lifting of sanctions—resumed legally exporting oil, something it did despite United Nations sanctions with help from offshore subsidiaries of ExxonMobil, whose CEO at the time, Rex Tillerson, is about to become Secretary of State.
In addition, the shrinking territory controlled by ISIL, which has been slowly but steadily degraded through both aerial bombing and unconventional warfare to assassinate its leaders, should mean more oil flowing from Iraqi wells even as civil war continues in neighboring Syria.
Such supplies, however, are inherently unstable, contributing to the global stability problem in the Trump-Putin era and kicking off a dangerous cycle in which unstable supplies contribute to unstable politics, which in turn, further destablize supply. "Geopolitical events have figured very large in questions about oil supply and I think that will continue," says James Hamilton, professor of economics at the University of California, San Diego who studies the industry.
Some worry about a new American war in the Middle East, a development that could serve the political aims of both Trump and Putin, with collateral damage to your pocketbook.
Trump wants to show he is a tough guy who can quickly end "radical Islamic terrorism" as well as undo the global deal to let Iran openly return to world markets. Greater U.S. military activity in the Middle East, especially in light of Trump's attacks on the Muslim faithful, would surely foster more hatred of America and its Western allies, encouraging more young people to turn to violence. The risk for Trump is that higher oil prices could turn off his voters unless they are persuaded that sacrificing more of their money for costly fuel is patriotic.
Putin would benefit from America getting into a Middle East war that disrupts oil supplies. Petroleum firms earn almost all of the profits of large Russian companies and higher oil prices should mean bigger profits for Russian oil, which would become a more important source of power, especially for Europe.
Thank You!
You are now subscribed to the Daily Digest and Cheat Sheet. We will not share your email with anyone for any reason.
Putin needs higher oil prices because his weak and underperforming economy relies for hard currency almost exclusively on two exports: hydrocarbons and weapons. Hydrocarbons give him a lever over Germany and other industrial countries that need natural gas in winter. And war is, of course, beneficial to munitions makers. Many of the guns used to kill American soldiers in Iraq and Afghanistan were Russian made.
And the Middle East isn't the only place where conflict creates oil issues. Civil wars and terrorist attacks on oilfields in Nigeria and North Africa also could disrupt oil supplies, says Herman T. Franssen, president of International Energy Associates, a consulting firm with deep ties in the Middle East and a former International Energy Agency chief economist.
What's more, the drop in oil prices since 2014, as Saudi Arabia sought to maintain its share of the global oil market, is causing economic disruption in that country, a generous welfare state.
Many Americans may not realize it, but the United States was actually the world's top crude oil producer last year and in 2015. One reason is the developing shale-oil industry, born of the last spike in oil prices. Shale oil is extracted with a technology known as fracking, in which solvents and sand are forced into soft underground rocks to unlock relatively small carbon deposits. Fracked wells account for more than 5 million barrels a day of American oil, about a third of U.S. production.
Owners of some existing shale oil wells in the Permian Basin of Texas can probably make a profit at $25 a barrel, Franssen says. Most other areas, however, need prices at or above $54 a barrel. The Saudi oil-price cuts were intended to make American shale oil uncompetitive. Instead they spurred advances in shale-oil drilling efficiency. Even though the number of working American oil rigs has fallen from about 2,000 to under 500 in the last two years, drilling didn't decline by three-fourths. A modern rig can drill multiple wells by cutting through rock horizontally. Unused rigs are being cannibalized for parts, reducing costs.
Trump has said he wants to keep the U.S on top and shale oil will be part of that goal. Slashing regulations is a key part of his promises to voters and that likely will include issues around the environmental cost of fracking. Trump may run into opposition, though, as earthquakes like those bedeviling Oklahoma homeowners and other damage from fracking sours some voters. Other environmental problems, such as aging, leaky oil pipelines, could also come into play.
The U.S. extracted domestic crude at the rate of 15 million barrels per day in 2015, the federal Energy Information Administration estimated. Saudi Arabia was second at nearly 12 million barrels; Russia was next at 11 million barrels; and China, fourth, at just under 5 million barrels per day.
Proven oil reserves—meaning the amount of crude in the ground that companies count as assets because it can be pulled from beneath the surface—will provide enough carbon fuel to meet the expected world demand through 2040, the federal Energy Information Administration estimated in its most recent annual energy outlook report.
That does not mean the world will run dry in 24 years. Proven reserves is an accounting measure, not a geological measure. It does not include oil yet to be discovered, oil that cannot be profitably extracted with current technology or at current prices, and other factors. That measure tells us, however, that at current world prices oil will be cheap for a very long time assuming relative peace continues.
Cheap oil is decidedly not in the interests of Russia or of those Middle East and African countries run by autocrats, dictators and kings who need oil profits to mollify their subjects and stay in power.
A major disruption of Middle East oil supplies still might not raise oil prices enough to help Russia deal with its limp economy. Trump has vowed to ease regulations so that America extracts more oil than it needs and remains the top producer. So Americans might enjoy cheap gasoline even as Europeans struggle to find enough Middle East oil to fill the tanks of their fuel-efficient cars and are forced to pay higher prices for Russian oil.
An unstable Saudi Arabia—and instability among its oil-rich neighbors—may also foster more hatred or American and the West. That, too, could lead to wars and revolutions, adding to uncertainty about oil supplies and who will control them.
So, while today oil is abundant both under the surface and in storage, that can change fast. And both Donald Trump and the leader for whom he keeps expressing his admiration, Vladimir Putin, have interests that just may come together in ways that may mean more war together with an end to cheap and reliable oil.
Read the whole story
· · · · ·
And while the storm is also expected to curtail offshore crude oil … to come back on line," said Phil Flynn, senior market analyst at Price Futures …
Next Page of Stories
Loading…
Page 4
CIA chiefs fear hostile nations are trying to manipulate the world's weather
Academic has told of mysterious phone call asking whether foreign countries could be triggering droughts or flooding
CIA is believed to have helped fund a major report into geoengineering
By Fiona Macrae, Science Correspondent In San Jose
Published: 19:10 EDT, 15 February 2015 | Updated: 04:11 EDT, 16 February 2015
If it seems like it never stops raining, blame the Russians. Or even the North Koreans.
CIA chiefs fear hostile nations are trying to manipulate the world's weather, a conference heard.
A leading academic has told how he got a mysterious phone call asking whether foreign countries could be triggering droughts or flooding.
Professor Alan Robock, from Rutgers University in New Jersey, said: 'Consultants working for the CIA rang and said we'd like to know if someone is controlling the world's climate would we know about it?
Scroll down for video
Copy link to paste in your message
A leading academic revealed how he got a mysterious phone call asking whether foreign countries could be triggering droughts or flooding. File photo
'Of course they were also asking – if we control someone else's climate would they then know about it.'
The professor is one of many scientists from around the world are actively looking at manipulating the weather as a way of combating climate change.
Geoengineering techniques range from cloud seeding, in which chemicals are sprayed by planes trigger rainfall, to shooting mirrors into space to reflect sunlight and cool the Earth.
Professor Robock told the callers that any attempts to meddle with the weather on a large scale would be detectable.
Share this article
Share
5.9k shares
However, he told the American Association for the Advancement of Science's annual conference in San Jose, that the weather has been weaponised in the past.
During the Vietnam War, US scientists tried to increase rainfall to hamper the enemy's progress by spraying particles into the clouds.
And the CIA seeded clouds over Cuba 'to make it rain and ruin the sugar harvest'.
Copy link to paste in your message
Professor Alan Robock, from Rutgers University in New Jersey, got a mysterious phone call asking whether foreign countries could be triggering droughts or flooding
Asked how he felt when he got the call, the professor said: 'Scared.
'I'd learned of lots of other things the CIA had done that haven't followed the rules and that wasn't how I wanted my tax money spent.
'I think this research has to be open and international, so there isn't any question of using it for hostile purposes.'
To add to the intrigue, the CIA is believed to have helped fund a major report into geoengineering.
Published last week by the prestigious US National Academy of Sciences, the report mentions the 'US intelligence community' in its list of sponsors, alongside organisations such as Nasa.
Professor Robock said the CIA had told one of his colleagues it wanted to fund the report, but apparently did not want this fact to be too obvious.
He said: 'The CIA is a major funder of the National Academies report so that makes me really worried who is going to be in control.'
He added that the tension created by any large-scale meddling in the climate could escalate to such an extent that it would end in all-out war.
The professor said: 'If one country wants to control the climate in one way, and another doesn't want it or if they try to shoot down the planes…if there is no agreement it could result in terrible consequences.'
Share or comment on this article
Read the whole story
· · · ·
If this hurricane were artificial (and by the way, no-one has ever demonstrated that it is possible to create one) the meteorologists would be able to trace its history back to a location somewhere out at sea and spot it developing in an unnatural way. It's not like hurricanes sneak up on you with no warning.
The natural processes creating hurricanes are well-understood, and those would be very hard to simulate. If it were at all possible. Which at present it is not.
Also, it would be a bit of a rubbish weapon, because you could only use it in the tropics, during certain weather, at certain times of the year, and once you had created it you would have to sit back and watch as it did its own thing: the best you could hope for would be that it survived at hurricane force long enough to hit some coastal development, in some nation, more or less at random.
New York Times
–
5 hours ago
Overwhelmed by the news from Texas since Hurricane Harvey made landfall? Here is an overview of coverage by The New York Times so far.
<a href="http://NYTimes.com" rel="nofollow">NYTimes.com</a> no longer supports Internet Explorer 9 or earlier. Please upgrade your browser. 
LEARN MORE »
Signed in as mikenova
Share this story on NewsBlur
Shared stories are on their way…
Next Page of Stories
Loading…
Page 5
Oil falls but gasoline jumps as Harvey hits U.S. refiners … Monday but gasoline prices surged to two-year highs as Tropical Storm Harvey kept …
While Israel's Prime Minister Binyamin Netanyahu carried to Russian President Vladimir Putin in their meeting in Sochi his opposition to Iran's continued consolidation in Syria, to shore up its sphere of influence from the Gulf to the Mediterranean, the Associated Press revealed that thousands of pro-Iranian fighters continue to advance in the Syrian desert, establishing for Tehran for the first time the precursors of its coveted corridor to the Mediterranean via Iraq, Syria, and Lebanon.
 Netanyahu is not ignorant of the silent US-Russian consent to Tehran reaping the fruits of its investments in Syria since it intervened there six years ago, by consolidating its geographical control of the corridor dubbed the "grand prize." Netanyahu has vowed that Israel is ready to act unilaterally to prevent Iran from making permanent its expanded military presence in Syria. But realistically, he is aligning his country to engage in future deals on Syria, especially in the context of the grand bargain between the US and Russia, and the Iranian dimension in the Arab geography and the regional balance of power.
 The benefits reaped by those who invested in the Syrian war, such as Iran, will include profits from lucrative reconstruction. However, Tehran has more extensive investments in Syria, Iraq, and Lebanon, with the primary aim of guaranteeing a major role for it in the future of the Middle East and in the emerging regional equations and alliances. Israel for its part is fully confident that US-Russian accords will always take into account Israeli interests, including guaranteeing its military edge and its security. But what prompted Netanyahu to meet Putin for the second time this year was his understanding that the Russian leader now holds the keys of the Middle East, with Washington's consent.
 The Iranian expansion concerns Israel, but there is no panic. Netanyahu is reconfiguring his country's position to be present in the deals, bargains and settlements being made in the Arab geography, from Iraq to Syria and Lebanon. Turkey and Iran are doing the same, but the difference is that they are operating on the ground to ensure they are part of the triangle of guarantors sponsoring de-escalation alongside the key Russian player, all with an American green light. Meanwhile, the majority of Arab countries are all but absent from these arrangements, albeit they are moving to have a presence in Iraq after a long absence. The Gulf countries are preoccupied with the Yemen war and the Qatar crisis. Jordan has no standalone role in Syria at this stage, after the Gulf roles in Syria receded. Egypt is playing a Russian-ordained role in Syria, through its influence with some opposition figures.
 It is Russia that is leading on the ground, politically and strategically, with signs of American consent to its role. Russia's foreign minister Sergey Lavrov is well versed in matching diplomatic tone to developments on the ground. He is a pragmatist who using his personal "charm" to influence the psychology of both friends and foes in negotiations and deal making. Today, Lavrov finds himself dealing with an issue he is loath to, that of the Syrian opposition. He is holding contacts with Saudi Arabia and Egypt to push forward efforts to form a unified opposition delegation from the so-called Cairo and Moscow opposition platforms, and the Higher Negotiations Council. The failure of the meeting of the Syrian opposition platforms in Riyadh this week is mainly due to their differences over the fate of Bashar Assad in the political process that follows the conclusion of the war. In fact, this causes more resentment by Lavrov toward the Syrian opposition, for which he has little respect save for the Moscow-based factions. Indeed, for Russia, Assad's fate is not now a priority, but rather, the facts on the ground.
 At this juncture of the Syrian war, Russia is focusing its efforts on reaching an agreement with Turkey to establish a fourth de-escalation zone in Idlib. Russian deputy foreign minister Mikhail Bogdanov held consultations recently with his Turkish counterpart Sedat Onal to reach an agreement. Lavrov has said talks continue with Turkey and Iran regarding the situation in Idlib, but said there were "complications." In truth, these complications are related to Iranian-Turkish knots, which vacillate between sectarian and ideological hostility, and a compulsory partnership as part of the Russian-Turkish-Iranian triangle guaranteeing cease-fires as well as efforts to contain Kurdish ambitions.
Israeli threats of unilateral action in response to Iranian expansionism are meant for public consumption only. In fact, Israel's aims are much more strategic.

Raghida Dergham
On the ground, Russia has trained its eyes on Deir Ezzor, which it believes is a crucial battle in the war on Daesh. For its part, Iran is focused on the Syrian desert, carving out a corridor to consolidate its arc or crescent. Turkey's priority is to prevent the Kurds from making permanent their gains in Syria close to the Turkish border.
 The Kurdish element is common to both Turkey and Iran, despite denials by the Iranian Revolutionary Guards, following remarks by Erdogan suggesting a Turkish-Iranian agreement on a possible military move against the PKK and its allies inside Iran. Erdogan reportedly wants to establish a regional alliance that would include Turkey, Iran, and Iraq to contain the Kurdish ambitions.
Currently, these ambitions are represented by the insistence of Kurdish leaders in Iraq on holding a referendum on the independence of the Kurdistan Region, the timing of which has been opposed by the US. But Masoud Barzani, president of the Kurdistan Region, has insisted he would not postpone the vote for "a single minute," even as US defense secretary James Mattis was affirming the territorial integrity and sovereignty of Iraq, and US envoy to Baghdad Brett McGurk was suggesting the referendum would be catastrophic.
 Many friends of the Kurds who understand their aspirations have warned against taking the initiative to partition Iraq if they insist on holding the referendum on September 25. Others have expressed fears of the impact of Kurdish secession on the anti-Daesh strategy in Iraq. Following Mattis's visit to Iraq, a statement issued by Barzani's office hinted at some flexibility. A spokesman for Barzani said the referendum would not be postponed without an alternative, which could be international guarantees signed by all sides, especially the Iraqi government and the US, and even Turkey and Iran, setting another date for the referendum and pledging to respect its results.
 The positions of the Trump administration and the US superpower no doubt have an important effect. However, regional confidence in Washington is steadily declining, after it reneged on promises and pledges for the sake of immediate US interests. No one feels safe in the American wagon, be they the Kurds, Turks, Iranians or Arabs. Even Israel, the US's spoilt child and permanent ally, finds itself compelled to engage with Russia because the climate in the US is ravaged by divisions, contradictions and inconsistency.
 Washington is the ally of the Kurds in the fight against Daesh in Syria. But as soon as Daesh and similar groups are defeated in Syria and Iraq, the Americans, Russians and international envoys claim foreign forces and militias will have no logical basis to stay behind. Thus, voila, the Syrian war and Iraqi war, they claim, will end, the land will be liberated from terrorism, and the two countries will be ready for a political process, a new constitution and power sharing. That is what they claim, but as to the reality of what they are doing, the answer is on the ground, in the Arab geography.
 Reining in or curbing Iran's project in the Arab geography all the way to Israel's borders was the main headline of Netanyahu's visit to Russia, while an Israeli intelligence delegation took the same message to Washington. They both returned with reassurances based on the "logic" that the military pretext for Iranian intervention will end once Daesh is defeated, to be followed by some form of Iranian-Israeli accords guaranteed by US-Russian partnership.
 Part of these accords is currently taking shape in the Golan Heights, where Iran and its militias have been pushed back several kilometers away from the border. Israel wants to perpetuate the facts on the ground, to swallow the entire Golan and end any Syrian demand for its return, whether through negotiations or bargains. Recently, Israel's ambassador in Moscow mocked those who still talk about returning the occupied Golan to Syria, suggesting any talk about the issue is little more than a joke to Israel.
 However, Israel wants strategic American and Russian guarantees beyond pacifying the Syrian front and the Lebanese front through expanded international peacekeeping forces that would preclude any war scenario. Israel wants guarantees based on the new Israeli notion that Iran now has borders with Israel, but not vice versa.
 Such international strategic guarantees require bilateral accords between the two strong players in the regional balance of power, Iran and Israel. And this is exactly what Netanyahu was seeking in practice when he visited Putin in Sochi, regardless of the remarks meant for media consumption about moving unilaterally to prevent Iranian expansion in the Arab geography.
• Raghida Dergham is a columnist, senior diplomatic correspondent, and New York bureau chief for the London-based Al-Hayat newspaper since 1989. She is the founder and executive chairman of Beirut Institute. She is a member of the Council on Foreign Relations, and an honorary fellow at the Foreign Policy Association and has served on the International Media Council of the World Economic Forum. Twitter: @RaghidaDergham
Read the whole story
· · · · ·
<a href="http://NYTimes.com" rel="nofollow">NYTimes.com</a> no longer supports Internet Explorer 9 or earlier. Please upgrade your browser. 
LEARN MORE »
campaign: anchoredAd_subs_sponsorship_student0817, creative: AnchoredAd, source: optimizely
Signed in as mikenova
Share this story on NewsBlur
Shared stories are on their way…
Next Page of Stories
Loading…
Page 6
Next Page of Stories
Loading…
Page 7
Next Page of Stories
Loading…
Page 8
Business Insider
–
Aug 16, 2017
Peter Strzok, a veteran counterintelligence investigator, is now working for the FBI's human resources division, according to ABC. It is unclear …
Across from Independence Hall, a street artist recently was drawing a poster with two men she clearly did not admire, President Trump and Vladimir Putin. They were depicted as trampling on the U.S. flag, and on the Liberty Bell between them was a sign reading, "Sold." Above the picture the artist had written, "Stop selling us to the Russians, Trump."
Her message reflects what many people in Philadelphia think about the accusations of collusion in last year's U.S. election, Many, but not everyone.
The city's Northeast section is home to a large number of Russian Americans. Along Bustleton Avenue, caviar and pelmeni (meat-filled dumplings) are sold in the supermarkets. Signs in Cyrillic letters advertise shoe stores, pharmacies, and hairdressers. Many here do not share the concerns of the street artist downtown. "Everything will be OK" is the common refrain among saleswomen in local stores when asked about Trump. "He can change the country for the benefit of the people."
Signs on Russian-owned businesses in Northeast Philadelphia.
The word Russian for this community is not entirely correct. Many immigrants and their families came from Russia, but even more from Ukraine, or Georgia, Uzbekistan, Kazakhstan, Belarus, and other former Soviet republics. Some began arriving in the 1970s, when Moscow lifted the Iron Curtain a little bit and allowed Jews to emigrate. What connects the immigrants from all the former Soviet republics is their common history and language.
Many of them voted for Trump and continue to support him despite his low approval ratings and the turmoil of his first six months in office. As for the allegations of collusion, many Russian Americans dismiss them as part of a conspiracy, disruptive actions by Democrats and the media.
"Trump was presumed guilty and now they are trying to find proof," says Diane Glikman, 45, host of a Russian-language program on the internet. She represents a view among many along Bustleton that Trump could succeed politically if only given a chance.
I lived in Moscow for a few years and I also know the views of many immigrants from the former Soviet Union in Germany, my home country. There, conservative views predominate among the immigrants, especially among older citizens. More than a few praise Putin as a strong leader and a counterweight to the West, a person who represents their conservative views.
None of the people I spoke to in Philadelphia praised Putin. Gary Vulakh, 57, who came from Ukraine almost 40 years ago and runs a small jewelry repair shop, calls the Russian leader a "terrorist." Others said the ongoing Russia hacking investigation makes Putin seem stronger than he is. "He is not so powerful," says Malvina Yakobi, 57, the editorial director of the Russian-English newspaper Philadelphia News. Few believe the Kremlin could meddle in a U.S. election. "Could they do anything like that?" Vulakh wonders. "Everything is done by the Democrats to impeach Trump."
The Russians in Philadelphia may not fully support Trump's friendliness toward Putin, but they still back the U.S. president overall, roughly for four reasons.
First, they wish for good relations between the United States and Russia, which they believe will promote peaceful cohabitation and bring more stability to the world.
Second, many separate Trump's admiration for Putin from his promises on domestic issues. Russian Americans, Yakobi explains, are "the biggest American patriots." Having escaped the repressive Soviet Union, U.S. values such as freedom and justice are of the utmost importance. So, naturally, they want their new country to succeed.
Third, they like having a successful businessman in the White House instead of just another politician.They want to see a break from politics as usual and an establishment — what Yakobi calls the "corrupted" administration of President Barack Obama — that they see as ignoring the needs of too many in the country.
Fourth, though many themselves were newcomers to the United States, they like a president who promises to stop uncontrolled and illegal immigration. "We waited five or six years to get citizenship," says Glikman. They earned their blue passports by learning the language and working hard, even in jobs that were far below their education level. They believe, as Glikman says, that Trump "is not against immigrants when they work hard."
Though the community often leans Republican at election time — Democrats are seen as too "socialist," like the government many Russian Americans fled — it is not monolithic in its support for the current president. In some cases, a vote for Trump was more a vote against Hillary Clinton. As Yakobi, who came to the United States from Georgia, says, last November's election did not leave "a great choice." And even though the president may be a role model for achieving the American dream, not all are on board. "Even within families, there are very different opinions," Glikman notes. "The Russian community is split up … like the rest of the country."
Oliver Bilger is a writer for Berlin's Der Tagesspiegel newspaper who is working with the Inquirer as part of the Arthur F. Burns Fellowship Program. obilger@philly.com
Thanks for your continued support…
We recently asked you to support our journalism. The response, in a word, is heartening. You have encouraged us in our mission — to provide quality news and watchdog journalism. Some of you have even followed through with subscriptions, which is especially gratifying. Our role as an independent, fact-based news organization has never been clearer. And our promise to you is that we will always strive to provide indispensable journalism to our community. Subscriptions are available for home delivery of the print edition and for a digital replica viewable on your mobile device or computer. Subscriptions start as low as 25¢ per day.
We're thankful for your support in every way.


Read the whole story
· · · ·
The sentencing of Anthony Weiner, the 52-year-old former NYC Congressman who fell from grace after a much-publicized sexting scandal, was postponed last Friday by a Manhattan judge.
According to a NY Post report, Weiner's sentencing was delayed at the request of his lawyers, who asked that federal Judge Denise Cole postpone their client's sentencing until Oct. 6. Cole partially complied, holding the sentencing (initially scheduled for September 8) off until September 25.
On May 19, Weiner confessed to sending obscene material to a teenage girl, a scandal which ruined his career, reputation, and marriage to his wife Huma Abedin, who filed for divorce following Weiner's admission of guilt.
In a report, News 12 Westchester said Weiner's legal team have stated they need additional time to prepare a sentencing recommendation that suits Weiner's ongoing treatment.
In addition to his legal woes, Weiner is currently paying a heavy price for his actions in other ways.
"Nobody speaks to him. He is truly ostracized," a source cited by Page <a href="http://Six.com" rel="nofollow">Six.com</a> said. "People won't even get on the elevator with him."
In his confession earlier this year, Weiner expressed contrition for his actions, saying he had no excuse for his behavior.
"I have a sickness, but I do not have an excuse," he said during a May appearance in Federal Court. "I apologize to everyone I have hurt. I apologize to the teenage girl, whom I mistreated so badly."
In an emotional plea statement in May, Weiner acknowledged that his "destructive impulses brought great devastation to family and friends, and destroyed my life's dream of public service. And yet I remained in denial even as the world around me fell apart."
According to a Washington Post report at the time, Weiner's attorney, Arlo Devlin-Brown, said his client had "apologized, offered no excuses, and made a commitment to make amends."
Devlin-Brown also said he believed Weiner had accepted "full responsibility for the inappropriate, sexually explicit communications he engaged in early last year."
Weiner resigned in 2011 after sending an explicit photo to a minor via Twitter (usingh his Twitter account accidentally). Weiner also confessed to engaging in similar behavior with at least six other women, a fact he confessed to in 2011.
By: Yosef Delatitsky
The former FBI director leading the probe into the Trump campaign's possible ties to Russia is taking a page from the playbook federal prosecutors have used for decades in criminal investigations, from white-collar fraud to mob racketeering:
Follow the money. Start small and work up. See who will "flip" and testify against higher-ups by pursuing charges such as tax evasion, money laundering, conspiracy and obstruction of justice.
Special counsel Robert Mueller — himself a veteran prosecutor — has assembled a team of 16 lawyers experienced in complex criminal cases for his investigation into Russian meddling in last year's presidential campaign.
They even staged a dramatic early morning raid in late July on the home of President Donald Trump's former campaign chairman, Paul Manafort — a classic shock-and-awe tactic reminiscent of raids the FBI used against four hedge funds in an insider-trading probe in 2010 and earlier against mobsters like John Gotti, head of the Gambino crime family in New York.
"You're always looking for people on the inside to testify about what goes on," said Jeffrey Cramer, a former prosecutor who's now managing director of consulting firm Berkeley Research Group LLC. "You go for the weakest link, and you start building up."
Trump's Red Line
Mueller was given a broad mandate in May by Deputy Attorney General Rod Rosenstein to investigate not only Russia's interference and potential collusion with Trump's presidential campaign but also "any matters that arose or may arise directly from the investigation."
Now, the expanding investigation risks a showdown with Trump, who has warned that looking into his family's real estate deals would cross a red line.
While Trump's legal team doesn't anticipate that Mueller will violate his mandate, it's prepared to take action if he does, Jay Sekulow, one of Trump's lawyers, said in an interview. Matters that would be out of bounds include looking at Trump's taxes or real-estate transactions of the president or his family members, Sekulow said.
"If we felt there was an issue that developed that was outside the scope of legitimate inquiry we would, in normal course, file our objections with the special counsel," Sekulow said. "If we weren't satisfied with the resolution we would look at going through the appropriate channels at the Department of Justice."
People 'Speculating'
Sekulow also said it's "fundamentally incorrect" to assume that Mueller is conducting a mob-style investigation when it comes to Trump and his family members, at least based on what he's seen to date.
"People are speculating on things without a full grasp of the nature of what's taking place," he said.
Rosenstein said on "Fox News Sunday" this month that "we don't engage in fishing expeditions" and Mueller needs to come to him for approval to investigate any potential crimes beyond his mandate. Mueller and Rosenstein declined to comment for this story, according to their aides.
Those who have worked with Mueller said he knows how to build a case piece-by-piece.
"Mueller is no dummy," said William Mateja, a former federal prosecutor who investigated white-collar crime and served at the Justice Department when Mueller was director of the Federal Bureau of Investigation. "You use crimes like money laundering and tax evasion to get cooperation from people who might be in the know."
Among the experienced prosecutors he's recruited in that effort is Andrew Weissmann, who worked in the 1990s to dismantle crime families on racketeering charges. He squeezed lower-level mobsters to become cooperating witnesses, a tactic that eventually led to the conviction of Genovese crime boss Vincent "The Chin" Gigante for racketeering in 1997. Later, Weissmann led the Enron Task Force that investigated and prosecute cases involving the defunct Houston energy trader.
Greg Andres, another team member, is a former deputy assistant attorney general for the Justice Department's criminal division who took down Bonanno family boss Joseph Massino. He also prosecuted former Credit Suisse Group AG broker Eric Butler for securities fraud. Butler was convicted in 2009.
To be sure, Mueller's team is using 21st century technology to investigate last year's hacking into Democratic Party computers and moves to "weaponize" social media to influence voters.
But it's also using time-tested methods, casting a wide net to find out "who are the true power players" with knowledge of what was happening in Trump's campaign and during his transition to the White House, said Ronald Hosko, former assistant director of the FBI's Criminal Investigative Division.
"The core part of Robert Mueller's mission is to understand whether people associated with the campaign were associated with Russians determined to influence the election results," said Hosko, who's now president of the Law Enforcement Legal Defense Fund.
Trump Buildings
The investigation is examining Russian purchases of apartments in Trump buildings, Trump's involvement in a controversial New York hotel development with Russian associates and Trump's sale of a Florida mansion to a Russian oligarch in 2008, Bloomberg News reported last month. Sekulow said he hasn't seen any evidence the investigation is looking into Trump's real-estate transactions.
Trump associates who are central figures in Mueller's investigation include Manafort, the president's son-in-law Jared Kushner, and Michael Flynn, who was ousted as national security adviser, according to two U.S. officials with knowledge of the investigation. Mueller is now in talks with the White House to interview current and former administration officials, including recently departed White House chief of staff Reince Priebus, the New York Times reported.
"They're looking at where are various people getting money from, and they're going to try to figure out not only where did it come from, but who can they connect it to," said Mateja, now a shareholder at the law firm of Polsinelli PC. "Can they connect it to Donald Trump?"
What's not known publicly yet is whether any of those under investigation are cooperating to help Mueller build a case, Hosko said.
Pressure to Act
Mueller's investigation is likely to continue through next year if not longer, increasing pressure on him to announce indictments against those who committed relatively small offenses and who aren't needed to further the investigation, according to Hosko.
"The longer it drags out, the louder the complaints will get that there's nothing that's been proven," he said.
The July raid on the home of Manafort, whose financial dealings and previous work for a Russian-backed party in Ukraine have come under scrutiny, was seen as an effort to get him to give up any damaging information he might have on Trump or others.
Manafort changed lawyers after the raid, announcing he would hire Miller & Chevalier, which specializes in international tax law and fraud. The move was made because Mueller's investigation of Manafort appears to be moving beyond collusion with Russia to focus on potential tax violations, said a person familiar with the matter.
John Dowd, another Trump lawyer, called the raid a "gross abuse of the judicial process" for the sake of "shock value" — another indication that the Trump team is chafing increasingly at Mueller's hard-charging approach.
© Copyright 2017 Bloomberg News. All rights reserved.
Read the whole story
· · · · ·
We have been had. The Trump campaign engaged in fraud during the 2016 presidential race to entice you to give him your vote. Most of us didn't fall for it, but enough did in the "right" states and the numbers game known as the Electoral College gave the presidency to Donald Trump. Fraud is the knowing misrepresentation or concealment of a material fact to induce another to act to his or her detriment. There is intent to deceive and the victim must justifiably rely on the lie.
On June 9, 2016, Donald Trump Jr., then-Trump campaign manager Paul Manafort, and Trump son-in-law Jared Kushner met at Trump Tower with Russians for the purpose of obtaining "dirt" to damage Democratic presidential candidate Hillary Clinton. Two weeks later Donald Jr. told CNN's Jake Tapper in no uncertain terms there was no Russian meddling in the campaign. On July 24, while he was still Trump's campaign manager, Manafort told ABC News's George Stephanopoulos that neither he nor the Trump campaign was involved with Putin and his regime.
Now, correct me if I'm wrong, but I do believe the email chain about and sent prior to the June 9 meeting provided to us recently by Donald Jr. himself mentions the Russian government and its favoring of Trump in the presidential election. Kushner just forgot about the meeting and didn't mention it when he first filled out his application for a security clearance after his father-in-law won the election.
Do you think some voters relied on the strong statements of Donald Jr. and Manafort that there was no involvement with Russians and, and to paraphrase Donald Jr., the Clinton people were crazy and lower than low to intimate that? What if they had admitted the June 9 meeting back in July 2016 when asked about Russia and candidate Trump said then, as he did after the revelation in July 2017, that anyone would have taken the meeting and it was just opposition research that everybody does? Do you think he would be in the Oval Office today? Do we have fraud here?
In July 2016 the FBI began its investigation into possible ties with the Trump campaign and Russia. By September 2016 it was being discussed within the intelligence community and the upper echelons of the United States government. Senate Majority Leader Mitch McConnell made clear his doubts as to the accuracy of the intelligence community's assessment that there was Russian involvement in our election. He threatened to make it a partisan issue if brought to the American people by President Obama. We, the uninformed people, went to the polls on Election Day.
If the election of Donald Trump is based on fraud and concealment, how is he the legitimate president of the United States? The swearing in of an illegitimate president-elect cannot make him legitimate. Everything he has done in the office is tainted with his illegitimacy. Our divisively partisan Republican Congress, led by McConnell and Paul Ryan, will distract, evade, and tap dance before it will impeach under Article II, Section 4 of the Constitution. What is the nation's remedy for a president illegitimately elected through commission of fraud by his campaign and inaction by compliant Congressional leadership? Look to the Tenth Amendment.
The Tenth Amendment was added to appease the anti-federalists who were concerned about a too powerful overreaching federal government and it reads: "The powers not delegated to the United States by the Constitution, nor prohibited by it to the states, are reserved to the states respectively, or to the people." The power to declare an executive illegitimate is not mentioned in the Constitution, nor does the document prohibit states from declaring the commander in chief illegitimate. Impeachment, though, can occur only because of treason, bribery, or other high crimes and misdemeanors. It says nothing about the illegitimacy of an executive who took power as the result of a fraudulent campaign.
There is one group of people who have stood up to Trump, and that is the governors. The states fought back about the travel ban and beat back the voter fraud nonsense. Several of the governors are not pleased about the health care debacle we now face. Can the states declare our executive and all he has done while illegitimately holding office null and void, and remove him along with the entire executive branch? Of course not, but that would be a swamp draining like no other.
The United States Declaration of Independence tells us governments are of men and derive power from the consent of the governed. It also says we have unalienable rights to the pursuit of life, liberty and the pursuit of happiness. We have been had, and we do not have to give our consent.
SUSAN SURFTONE is a musician who previously served as an FBI agent. Her latest EP is Making Waves Again.
Read the whole story
· · ·
Next Page of Stories
Loading…
Page 9