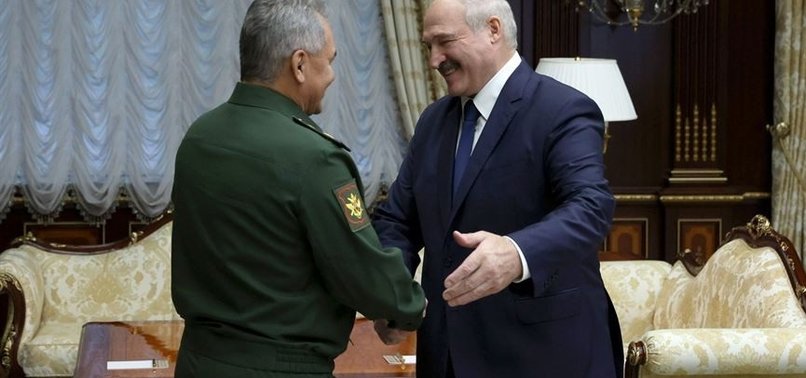 News World Belarusian President Lukashenko meets Russia's defence minister -BelTA
Belarusian President Alexander Lukashenko on Monday met Russian Defence Minister Sergei Shoigu for an unannounced meeting in the Belarusian capital Minsk, Belarusian state-owned news agency BelTA reported.
It cited a Telegram channel linked to Lukashenko's office.
Belarusian President Lukashenko said in the meeting that Belarus needs guarantees that Russia will defend Belarus as its own territory in the case of aggression, BelTA reported.
"Leaving after the last talks with (Russian President) Vladimir Vladimirovich (Putin), we agreed that you (Shoygu) and experts would come to Belarus, and we would sit down with you and discuss the security issues of Belarus. You know, I have already raised this issue at the Supreme State Council. But before that, we discussed this issue with Vladimir Vladimirovich," Lukashenko said during the meeting, according to state news agency Belta.
According to Belta, Lukashenko underlined that the West does not fulfill its obligations under the Budapest Memorandum which envisioned the provision of security assurances to Belarus in exchange for Minsk's relinquishment of nuclear weapons.
"Western states trampled on all these treaties, agreements and statements, and there is No security. I meant economic security as well. Well, what kind of economic security is there if they impose sanctions against us," he said.
The Budapest Memorandum was signed by Ukraine, Russia, the UK, and the US on Dec. 3, 1994 to provide Ukraine, Belarus, and Kazakhstan with security assurances in connection with their accession to the Non-Proliferation Treaty.
Lukashenko also said that he raised the issue with Russian President Vladimir Putin during talks in Moscow, in response to which Putin supported him and said they need to revise all treaties and agreements between Moscow and Minsk to see what kind of interstate acts they can take in ensuring "the complete security of Belarus."
"In general, it was said at the talks that in case of aggression against Belarus, the Russian Federation protects Belarus as its own territory. We need such (security) guarantees … We need full security guarantees from our brotherly Russia," the Belarusian president added.